Reverse boring bar RBS-Micro RBSM

For countersinking from M3 up to M6
Countersinking will be possible up to 1.9×D

new RBU replaces the old RBS+ more information here
For spotfacing, chamfering and deep counterboring of areas with difficult access
RBS+ is very stable and rigid with surface treatment and FEM-optimized geometry
Internal coolant for RFS and RBS+ starting from d=18
Wide choice of different PCD-, carbide- and HSS indexable inserts
The new RBU offers a much higher stability due to the optimized cutting edge position
For requests of specials
Reverse counterbore system TU

Manually operated reverse machining
Universally applicable on all machine types
Flat bayonet for quick and reliable manual tool changes
Large cutting width (up to 2.5 D)
Multiple regrinds are possible
Several diameter combinations of counterbores and holders
The same basic holder (TUHW) plus adjusted guide sleeves (TUB) can cover several guidance diameters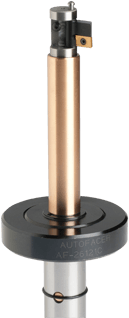 customized special design according to your needs
Easy and safe activation by inertia of flywheel when fast reversing the spindle rotation
Automatic (forward and) backward spotfacing, counterboring, chamfering
Big cutting width (up to 2.2×D, from D1 = 12.5)
Applicable on all machines with fast accelerating spindle
Reverse chamfering bar RFS

For defined chamfering of bore outlets
The high material strength and the large cross-section of the body allow considerably higher cutting data than other manufacturing processes

The universal chamfertool for double-sided deburring of through holes from Ø 3.3 mm on
High wear resistance through X-CEED coating
High toughness due to micro-grain carbide
For dry and wet machining
Machining time for 4 chamfers reduced by 80 % to 5 sec!
Please contact us for further information!
We are glad to support you with any questions of cutting technologie.
Do you already know our full product range?